City of Boston Climate Action Plan 2010 Update Process
City of Boston, Office of Environmental and Energy Services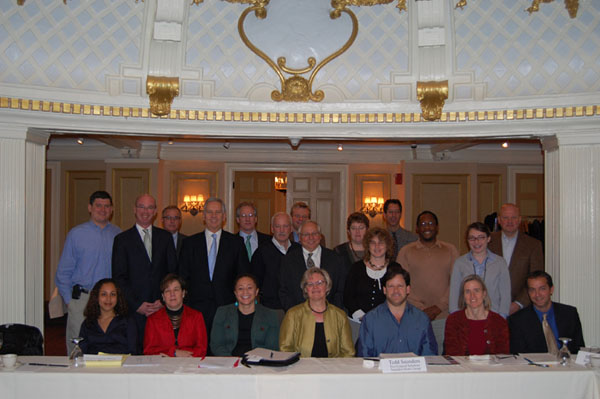 Boston CAP Leadership CommitteeIn 2009, Raab Associates, with assistance from the Interaction Institute for Social Change (IISC) and CLF Ventures, was hired by the City of Boston to facilitate and coordinate a multi-stakeholder process initiated by Mayor Menino to update the city's Climate Action Plan (CAP). Raab Associates and its team worked with Mayor Menino, Boston's Office of Environmental and Energy Services, a Climate Action Leadership Committee (LC), and a Community Advisory Committee (CAC) to update the City's Climate Action Plan. Raab Associates was the prime contractor on for the facilitation team and also led the technical and policy consulting effort. The project included over a dozen stakeholder meetings of the LC and CAC, plus five workshops attended by over 500 citizens (including one workshop for over 150 high school students) to provide feedback and input into the process. The updated Plan released in May 2010 included new climate change goals, as well as climate change mitigation and adaptation measures for the City of Boston and its residents, businesses, and institutions, including policies and programs for buildings, transportation, and solid waste.

Press coverage of the mayor's March 30, 2009 announcement of the City's Climate Action Plan and Renew Boston.

Video of the mayor's press conference with former vice president Al Gore. Mayor Menino's Executive Order on Climate Action.

UCS Presentation 'Confronting Climate Change in Boston and Massachusetts' (4,188k)

Full Report - Sparking Boston's Climate Change Revolution (6,093k)

Appendices to Report (3,517k)

Calculations- Assumptions and References for GHG Mitigation (754k)

Summary Report - Sparking Boston's Climate Revolution (4,056k)

Barr Foundation Climate Planning Assessment Report (1,931k)
You can search all Projects by Service Type, Subject or Location.