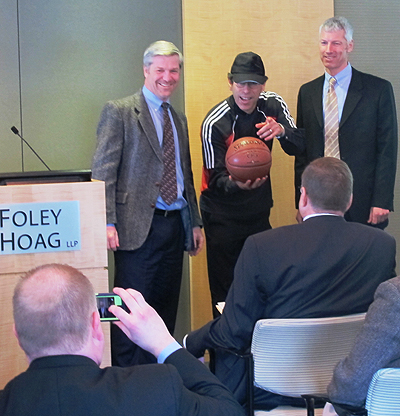 "Jump Ball" on Capacity Market Design between Bob Ethier,
ISO New England, and Pete Fuller, NRG Energy (and NEPOOL),
with Moderator Jonathan Raab
Dr. Jonathan Raab serves as the convenor and moderator of the Roundtable and is responsible for developing the agenda, securing speakers, and facilitating the meetings. The Roundtable is hosted by the law firm Foley Hoag LLP and funded by participating sponsors.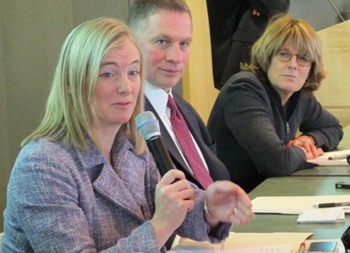 (L to R) Marcy Reed, MA President of NGRID, Bill Quinlan, Sr. VP at NU, and Barbara Kates-Garnick, Energy Undersecretary, MA EEA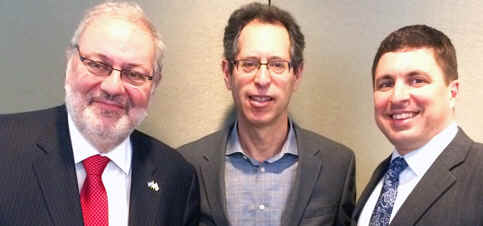 Québec Minister of Energy and Natural Resources (left), and MA Secretary of Energy and Environmental Affairs Matthew Beaton (right) with Roundtable Moderator Jonathan Raab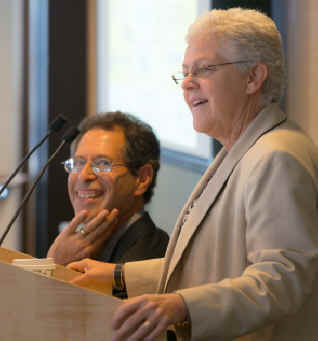 EPA Administrator Gina McCarthy speaks at the
Roundtable while Moderator Jonathan Raab looks on
Here is the most recent agenda for the Roundtable.  If you missed any meetings, you can catch up by reviewing the previous month (or any past month) by using the selections below (by date, topic or speaker).
We now have a live webstream of the Roundtable, which is free for employees of our sponsoring organizations, and $35 for non-sponsors. Archival videos of past Roundtables are also available on demand at $35 per Roundtable for non-sponsors (no charge for sponsors). For more info and to sign up, click here.
The Roundtable archives date back to January 1999. Many of the speakers' presentations (beginning in December 2000) can be downloaded for your review.

The Roundtables are held at Foley Hoag LLP in Boston's Seaport Innovation District
Click here for directions.
Click here for the schedule.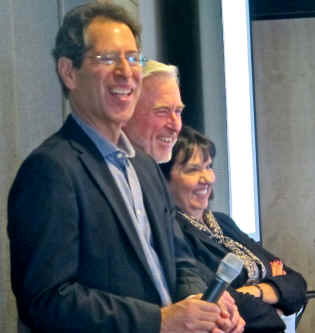 Roundtable Moderator Jonathan Raab, ISO-NE CEO
Gordon van Welie, and FERC Chairman Cheryl
LaFleur share a laugh at the Roundtable
* Photos from our 150th Gala/Symposium *

Moderator Jonathan Raab shares a laugh with morning panelists, Bill Hogan, Harvard University; Sue Tierney, Analysis Group; Peter Fox-Penner, Boston University; Richard Cowart, Regulatory Assistance Project; and John Howe, Poseidon Water.
| | |
| --- | --- |
| | |
| Peter Fuller accepts Silver Jump Ball trophy for being the second most prolific speaker at the Roundtable, while Eric Johnson accepts the third place award for most prolific speaker on behalf of ISO-New England President and CEO, Gordon van Welie. | David O'Connor, New England Roundtable Founder and all-time most prolific Roundtable speaker, receives Gold Medal from Moderator Jonathan Raab. |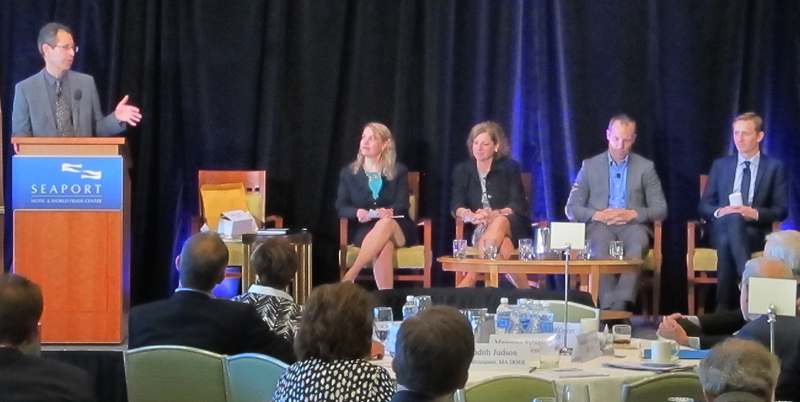 Moderator Jonathan Raab introduces afternoon panelists, (L to R) DOER Commissioner Judith Judson; Maryrose Sylvester, President and CEO of Current, powered by GE; Anthony Eggert, Program Director, ClimateWorks Foundation; and Thomas Brostrøm, General Manager North America, DONG Energy